Jimmy Knows Fashion
Can you guess what Coach Dykes' favorite game outfit is? If you guessed "gray striped shirt and black pants," you're correct! Coach Dykes wore that combination in more than half of Arkansas' games last year and picked up eight wins in this get up. Have you ever thought about how much time you likely waste deciding what to wear in the morning? Those indecisive moments have probably made you late to school or work more times than you can count. Many famous people, including Steve Jobs, Mark Zuckerberg, Albert Einstein and Johnny Cash all wore the same outfits in an effort to save time and energy from making inconsequential fashion decisions.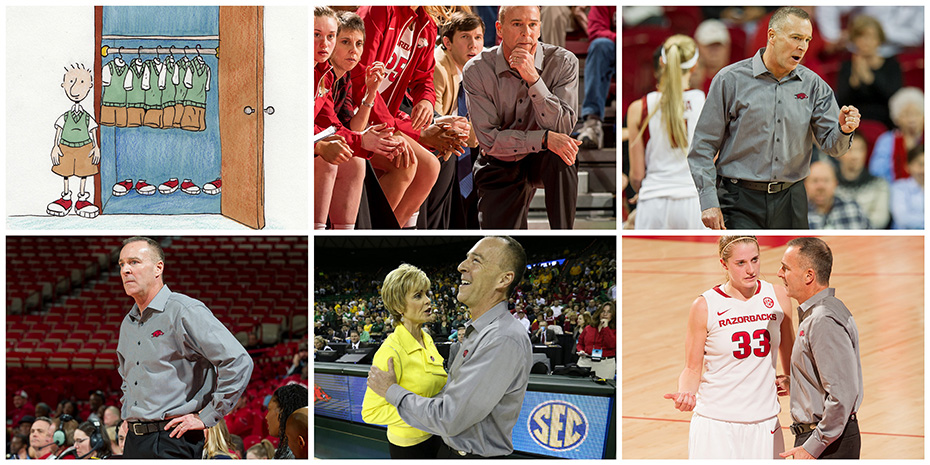 He Can Sing AND Dance
Singing and dancing are important activities in our daily lives for a number of reasons: It's just like exercise, but moving around while belting your favorite single can be a lot more fun to most people. For example, instead of heading to the gym or going for a jog, you can make exercise much more fun and just dance. It's almost like Zumba, but instead of copying moves from a screen, you get to be creative and make up your own moves. Jimmy Dykes is sure to live a long and full life after all this exercise and enjoyment!  
Jimmy Dykes "I Wanna Dance With Somebody" http://t.co/6S0nzuk0lr — Arkansas Razorbacks (@ArkRazorbacks) October 15, 2015
Jimmy Dykes Dance Moves at NCAA Tourney http://t.co/kuz7mY3uBV — Arkansas Razorbacks (@ArkRazorbacks) October 15, 2015
Jimmy For the Cause
There are many reasons to support any number of worthy causes in your community: It saves resources, brings people together, strengthens bonds, and creates new learning opportunities from people in all walks of life. Jimmy Dykes and the Razorbacks are no strangers to community service, as shown by their active support of several Northwest Arkansas and national charities. Play 4 Kay, Coaches For Cancer, the ALS Ice Buckett Challenge and We Back Pat are just a few ways Dykes and the Razorbacks make a difference.
Chillin' For Charity https://t.co/PC2n9yym5g — Arkansas Razorbacks (@ArkRazorbacks) October 20, 2015
Prostate Cancer Awareness Matters: Jimmy Dykes https://t.co/CupVjpThHb

— Arkansas Razorbacks (@ArkRazorbacks) October 20, 2015
Jimmy Knows TV
We all know Jimmy was a famous analyst for ESPN before taking over the head coaching job at Arkansas.  After becoming the Head Hog, Jimmy had to hone his interview skills as the interviewee instead of the interviewer.  Here's a look in photos as he displays his skills on both sides of the microphone.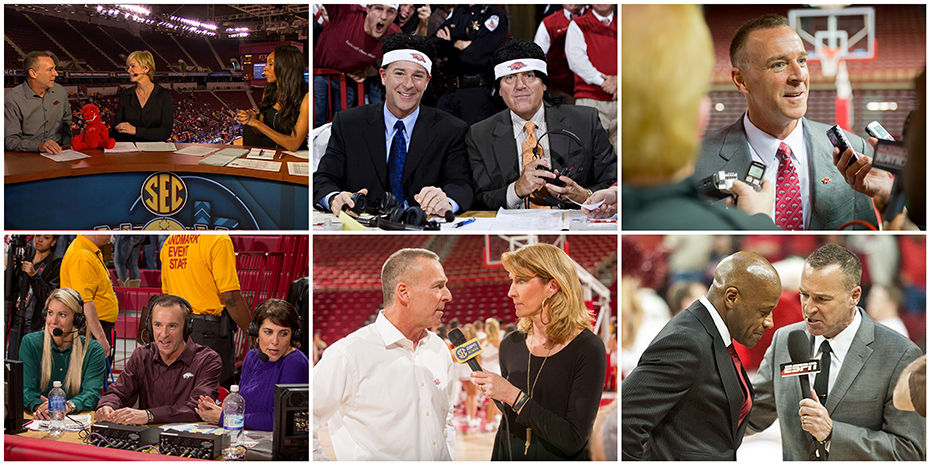 His Best Friend Is His Dog, Eli
Dogs bring many wonderful qualities to our lives: They help us stay healthy, encourage us to exercise, lower our stress levels and help us relax. They are often considered to be members of the family, and not just the family pet. Eli knew Jimmy before his wife and child were in the picture. He has been there every day along coach's journey, adding to, and enriching, the lives of everyone he meets.  
Eli is ready for his run. Eye protection is crucial pic.twitter.com/1EAHZh6Hl5 — Jimmy Dykes (@CoachJimmyDykes) August 24, 2015
National Dog Day today. And my man Eli is hangin out waiting for me to get home this evening to play ball pic.twitter.com/j4YzIwYiRW — Jimmy Dykes (@CoachJimmyDykes) August 26, 2015