Waco – – The Texas Sports Hall of Fame (TSHOF), in conjunction with the Arkansas Sports Hall of Fame and the Little Rock Touchdown Club, is proud to announce nine new members from the University of Arkansas into its 2015 class of inductees for the Southwest Conference Hall of Fame: Bill Burnett (Football), Todd Day (Men's Basketball), Chuck Dicus (Football), Bettye Fiscus (Women's Basketball), Wayne Harris (Football), Ken Hatfield (Football), Wayne Martin (Football), Niall O'Shaughnessy (Men's Track and Field) and Billy Ray Smith Jr. (Football).
Sponsored by the Texas Sports Hall of Fame, the Southwest Conference (SWC) Hall of Fame induction ceremony and luncheon will be held at the Little Rock Marriott (3 Statehouse Plaza, Little Rock, AR 72201) on Monday, November 9, at 11:30 AM. Visit www.lrtouchdown.com to reserve event tickets and to access sponsorship information.
"We are once again delighted to work with the University of Arkansas in honoring another amazing class of inductees into the Southwest Conference Hall of Fame," said Jared Mosley, the President/CEO of the Texas Sports Hall of Fame. "Their accomplishments and dedication to the high standard of excellence that exemplifies the very best of the Southwest Conference era, have left a great legacy for all Razorbacks to be very proud of."
The Southwest Conference Hall of Fame is one of four separate halls of fame housed within the Texas Sports Hall of Fame's physical structure. They include the Texas High School Football Hall of Fame, the Texas Tennis Hall of Fame, the Texas Sports Hall of Fame and now, the Southwest Conference Hall of Fame.
"We are pleased to welcome nine very deserving Razorbacks into the Southwest Conference Hall of Fame," University of Arkansas Vice Chancellor and Athletic Director Jeff Long said. "These outstanding individuals represented the University of Arkansas and all Razorbacks with great distinction during their collegiate careers. Their induction to the Southwest Conference Hall of Fame is a tribute to their accomplishments and impact on intercollegiate athletics both in our state and throughout the region."
Media interviews with the inductees will be available before and after the luncheon.
Bill Burnett (Football)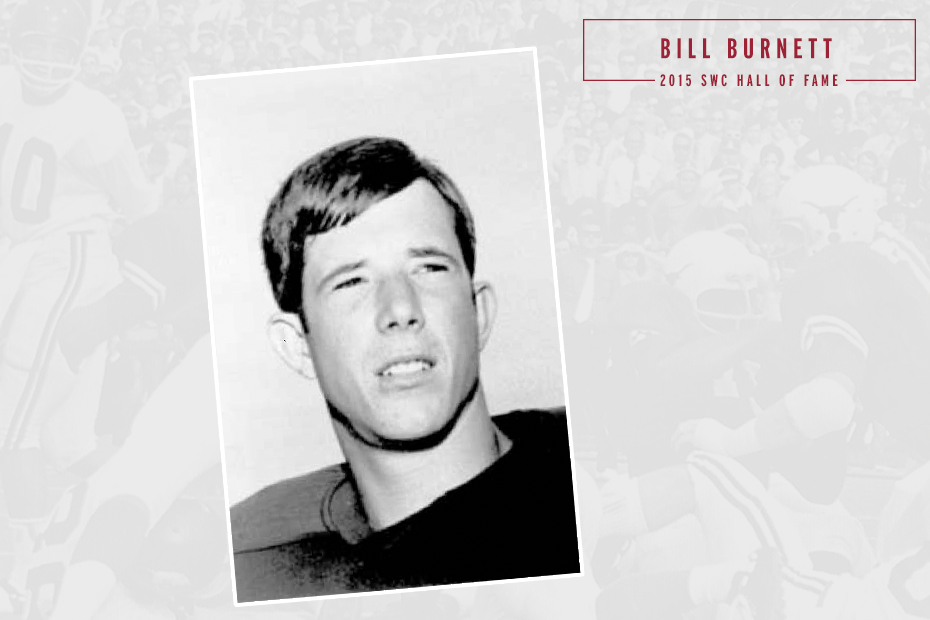 Bill Burnett established himself as one of the all-time greats in his three seasons (1968-70) playing tailback for the Razorbacks. For his career, he rushed 526 times for 2,204 yards and 46 rushing touchdowns earning him All-SWC honors in 1969 and 1970. He led the SWC with 900 rushing yards in 1969 and his 4.3 yards per carry were also tops in the conference that season. Burnett still holds the Arkansas single-season (19/1969) and career records (46) for rushing touchdowns and his 120 points scored in 1969 is still a Razorback record. Among his many accolades, Bill was inducted into the Arkansas Sports Hall of Fame in 1996, named to the 1960s Arkansas All-Decade team as a back, was an Academic All-American in 1969, earned the 1970 SWC Trophy for sportsmanship and the Kern Tips Award for the SWC's most outstanding senior.
Todd Day (Men's Basketball)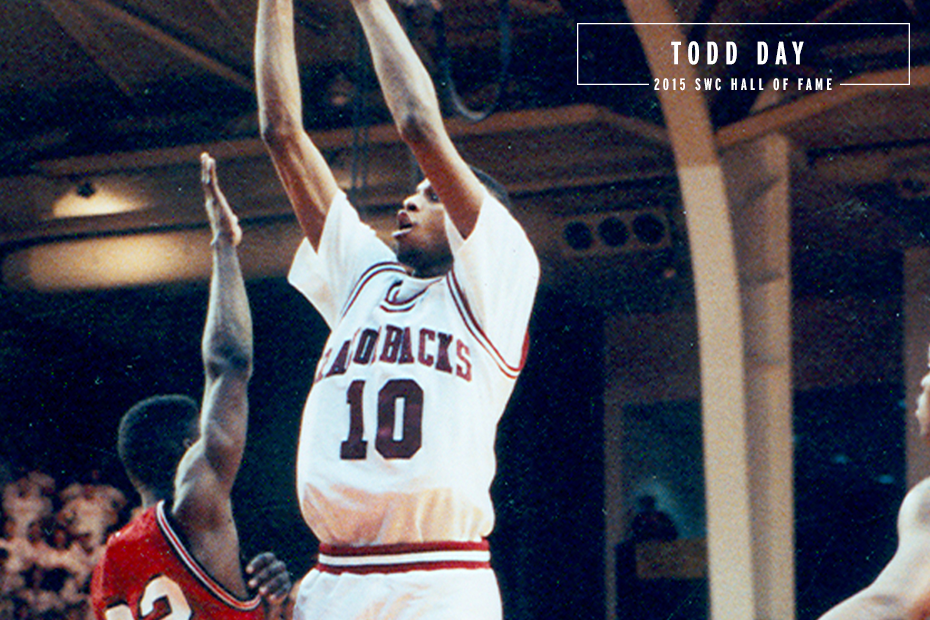 Todd Day was a four-year letterman ('89, '90, '91, '92) for Coach Nolan Richardson. At Arkansas, Day broke Sidney Moncrief's career mark for scoring with 2,395 points during his four-year career. He remains the leading scorer in Razorback men's basketball history. Day also holds the school record for points in a season (786) and his career scoring average (22.7 ppg) ranks third in school history. Day was a member of the All-Southwest Conference Newcomer Team as a freshman, a member of the Arkansas unit that reached the NCAA Final Four as a sophomore, and a John Wooden First-Team All-America selection as both a junior and senior. In his final college season, he powered the Razorbacks to the Southeastern Conference title in the school's first season in the league.
Chuck Dicus (Football)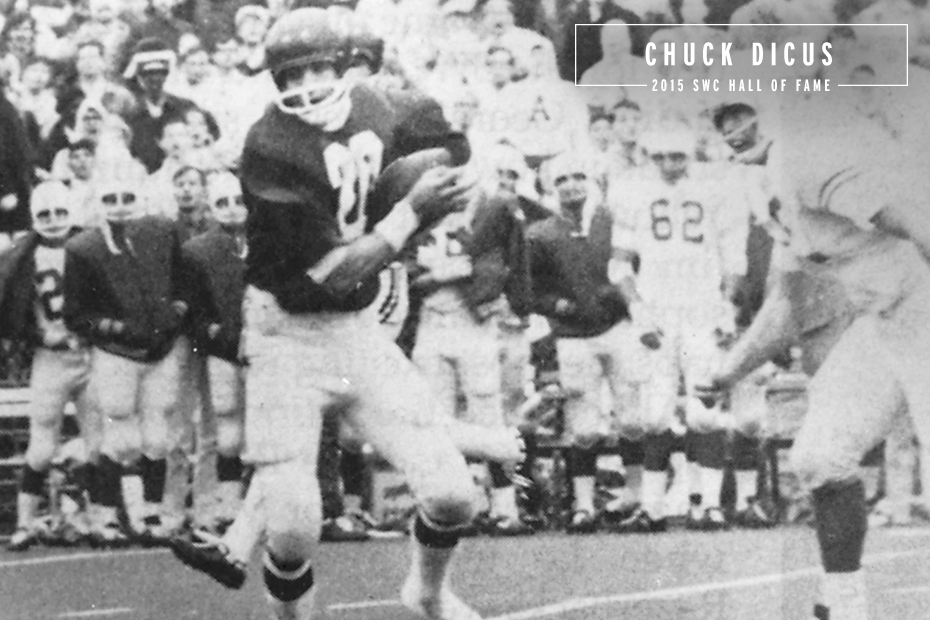 Chuck Dicus played wide receiver for the Razorbacks from 1968 to 1970, ending his career as the top receiver in team history at the time. His totals of 118 catches and 1,854 yards still rank among the career school records. Arkansas had a 28-5 record in the years he played. He was selected All-Southwest Conference in each of his three seasons and received first team All-America honors from the American Football Coaches Association in his junior year and the AFCA, Associated Press and Walter Camp Foundation after his senior season. In his junior season, Dicus was chosen Most Valuable Player in the 1969 Sugar Bowl for catching 12 passes for 169 yards and the game's only touchdown. He also played in the 1970 Hula Bowl and the All-American Game after completing his college playing eligibility. Dicus was inducted into the Razorback Hall of Honor in 1993 and selected a member of the school's All-Century Team in 1994.
Bettye Fiscus (Women's Basketball)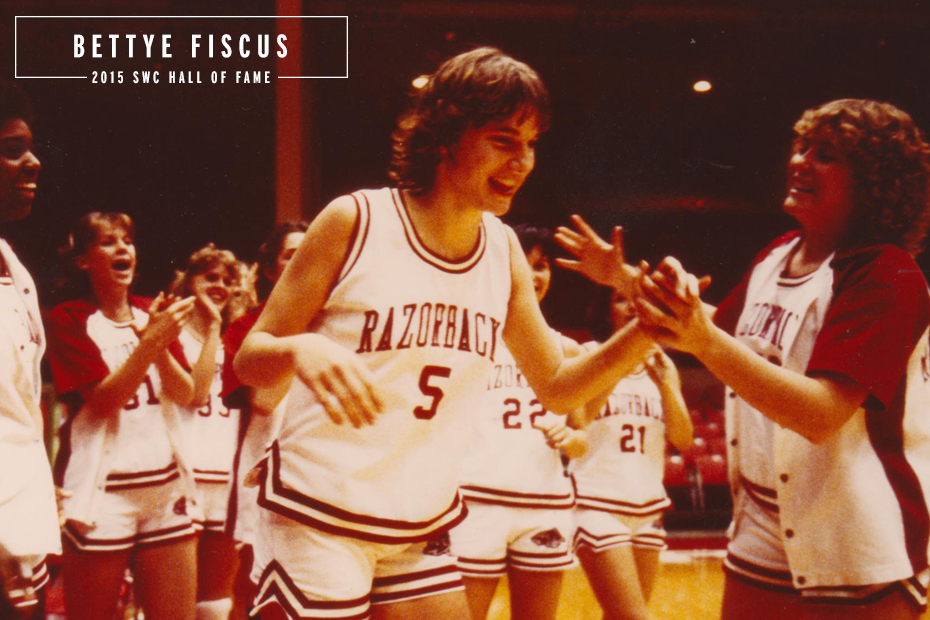 As the first female athlete inducted into the Arkansas Sports Hall of Honor in 1994, Bettye Fiscus set the definition by which all other Arkansas women's basketball players are judged. She was the first player to score over 1,000 points in a career, and broke the school record in only two seasons. She went on to become the only Razorback women's basketball player over 2,000 points, and until Razorback All-American Todd Day in the early 1990s, Fiscus was the University's all-time leading scorer. She averaged 18.5 points per game during her career. She was a Wade Trophy Award finalist, an award given to the nation's top women's player. Her jersey number — No. 5 — was the first to be retired by the University of Arkansas — male or female — and was placed in the trophy case and the rafters of Barnhill Arena.. In 2015 during a special ceremony, a banner was raised in her honor in Bud Walton Arena, the current home of Razorback Basketball. She still holds 12 Arkansas overall individual records including total points, career scoring average, field goals and free throws and eight class records. When she completed her career, she not only was the all-time leading scorer, but the leader in rebounds as well with 785.
Wayne Harris (Football)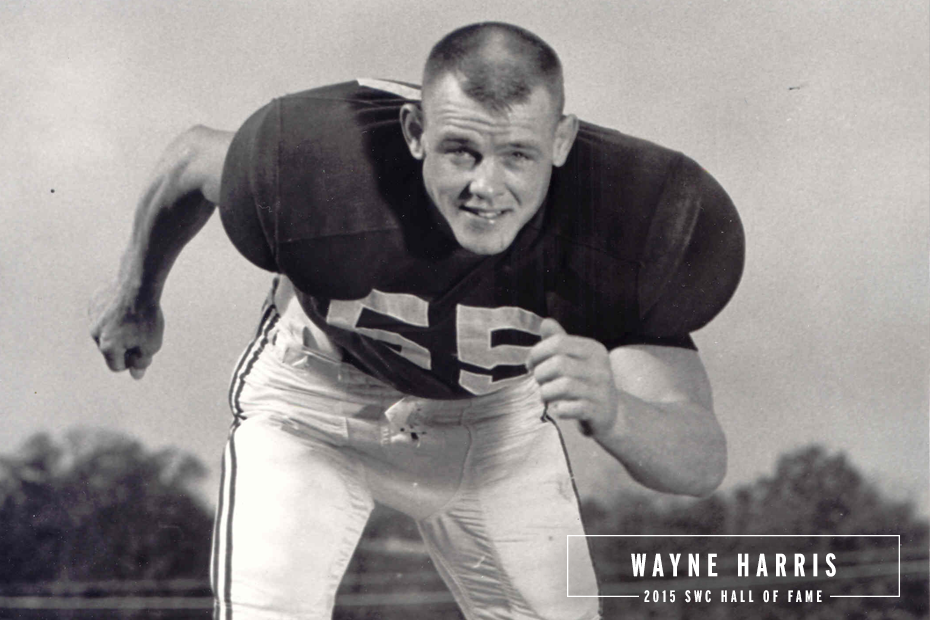 Former Razorback football All-American Wayne "The Thumper" Harris certainly made a name for himself while at the University of Arkansas. The hard-hitting linebacker earned All-America recognition in 1960, received All-SWC honors in 1959-60, was the outstanding player in the SWC in 1960, was an Academic All-America selection in 1959, and played in the 1961 All-America game. He was a team captain in 1960 recording the most tackles in a season with 174 in leading the Hogs to an 8-3 record and a SWC championship. Harris was also named to the All-Decade team for the 1960s. In 2004, Harris was inducted into the National Football Foundation College Football Hall of Fame. Harris also made his mark while competing professionally for the Calgary Stampeders of the Canadian Football League. He played 12 seasons (1961-72) with the Stampeders earning All-CFL honors in eight seasons and All-Western Conference honors 12 times. He was named the CFL's most outstanding lineman four times. He played in three Grey Cups, the CFL's championship game, and led the Stampeders to a CFL title in 1971. His No. 55 is retired by the Stampeders and he is a member of the Canadian Football League's Hall of Fame. Harris passed away in June 2015.
Ken Hatfield (Football)
Ken Hatfield was an All-American on Arkansas' 1964 National Championship team before returning to coach his alma mater to unprecedented success. Hatfield led the nation in punt returns in 1963 and 1964, his junior and senior seasons at Arkansas. His 81-yard punt return for a touchdown keyed the 14-13 victory at No. 1 Texas as Arkansas went 11-0 in 1964 and won the national championship. As a halfback, he earned first-team All-SWC honors in 1964. He led the Hogs in interceptions as a defensive back in 1962 and '63 and as a kickoff returner in '62 and '64. His 16.01 career punt return average and 1,153 career punt return yardage remain school records. As a coach, Hatfield revitalized the Air Force Academy football program and was named National Coach of the Year. In 1984, he returned to his alma mater as head coach of the Razorbacks for six seasons. Hatfield has the best winning percentage in Razorback football history – 55-17-1 (.760) including leading the Razorbacks to two SWC Championships (1988 & 1989). Hatfield averaged more than nine wins per year from 1984-89. He led the Razorbacks to a bowl game all six seasons, including two Cotton bowls, two Liberty bowls, the Holiday and the Orange. He later became a winning head coach at Clemson and Rice. He is a member of the University of Arkansas Sports Hall of Honor, Arkansas Sports Hall of Fame and was named to the Razorbacks' All-Century Team
Wayne Martin (Football)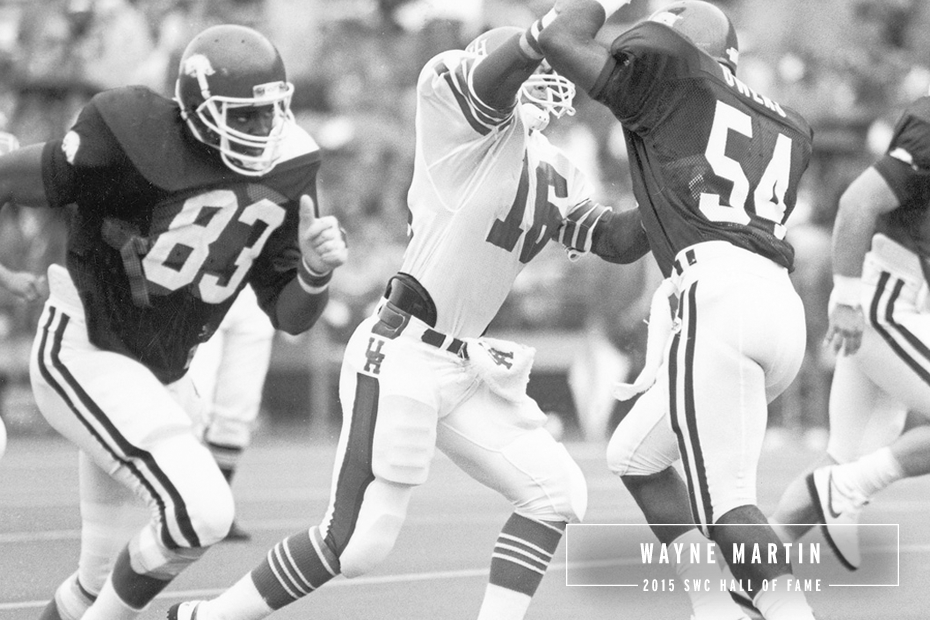 A consensus first-team All-American and All-Southwest Conference defensive tackle, Martin recorded 162 tackles during his Razorback career, including 37 tackles for loss and 25.5 sacks. Martin still holds the single-game and career records for sacks at Arkansas, also ranking third in the school record book for tackles for loss. He helped lead Arkansas to four bowl games and a Southwest Conference championship in 1988. Following his Razorback career, Martin went on to star in the NFL as a member of the New Orleans Saints for 11 seasons, playing in 171 games and posting 596 tackles and 82.5 sacks. Martin ranks second on the Saints' all-time career sacks list behind only linebacker teammate Rickey Jackson. He is a member of the University of Arkansas' All-Century Team, 1980s All-Decade Team and the New Orleans Saints Hall of Fame.
Niall O'Shaughnessy (Men's Track and Field)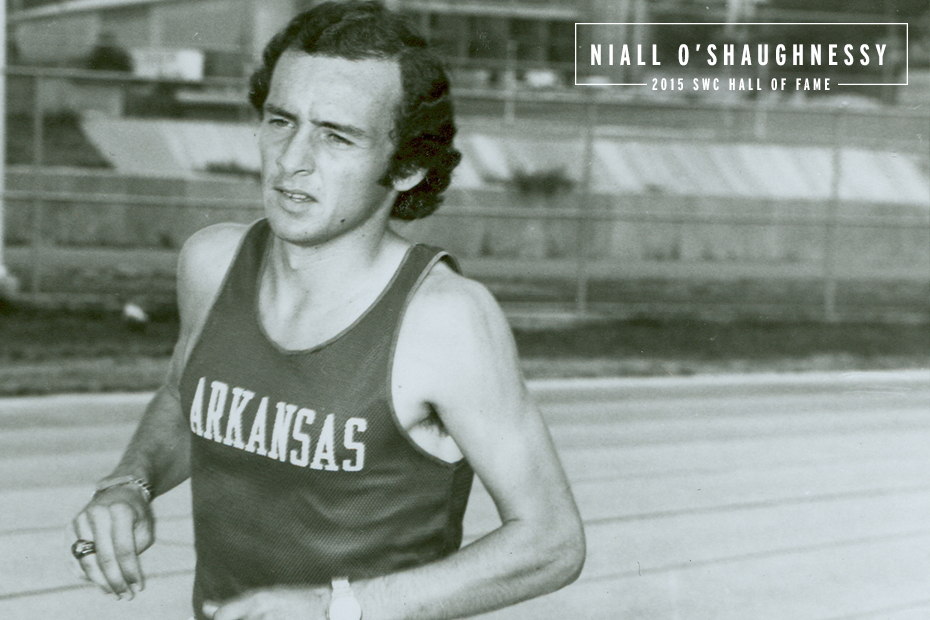 The first of Arkansas' great distance runners, Niall O'Shaughnessy helped set the early standard for the most successful collegiate program in NCAA history. He established a number of firsts during his cross country and track and field career at Arkansas including becoming the first in program history to earn All-American accolades in every academic year he competed. He was a six-time All-American across three sports in 5 different events (Indoor – 880yds, 1,000yds, Mile; Outdoor – 1500m; Cross Country). Niall was also the first Razorback to win an individual title at the Southwest Conference Indoor Championships. His indoor meet time of 3:55.4 in the mile is the ninth best performance in collegiate history and is still the Arkansas school record. O'Shaughnessy represented Ireland in the 1976 Olympic Games in Montreal (800m and 1500m).
Billy Ray Smith Jr. (Football)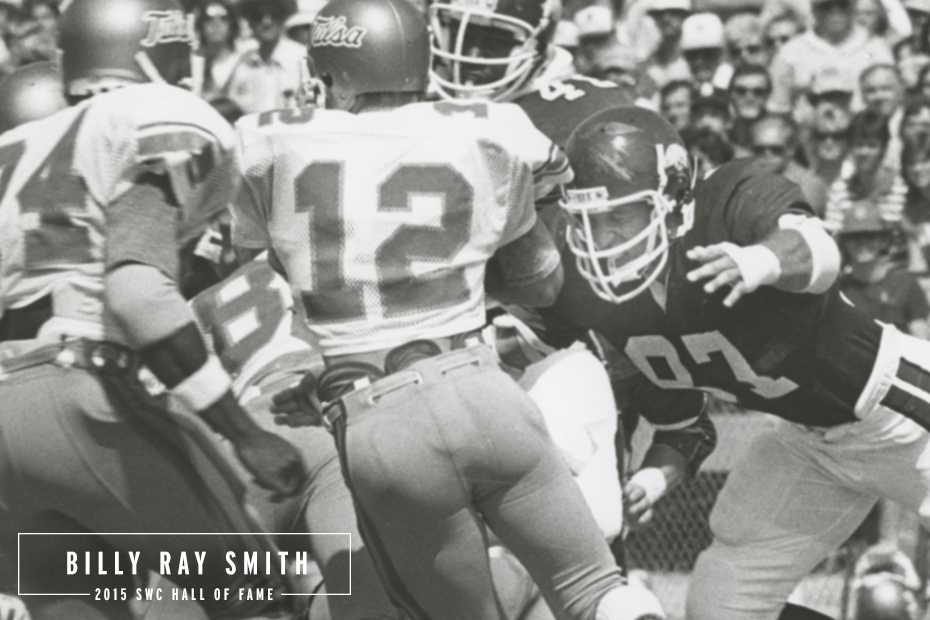 Billy Ray Smith Jr., a two time All-American and All-Southwest Conference defensive end, earned 299 career tackles while playing for the Razorbacks from 1979-82. Smith still holds the UA record for most career tackles for loss with 63. The 1982 team captain was named to the Arkansas 1980s all-decade team and the Arkansas All-Century team. He is also a member of the Arkansas Sports Hall of Fame, the University of Arkansas Sports Hall of Honor and in 2000 was inducted into the College Football Hall of Fame. Smith was drafted by the San Diego Chargers in 1983 as the fifth pick of the first round. He played for the Chargers from 1983-92 and was the team's MVP in 1987 and defensive player of the year in 1985 and 1986.
"We are once again delighted to work with the University of Arkansas in honoring another amazing class of inductees into the Southwest Conference Hall of Fame," said Jared Mosley, the President/CEO of the Texas Sports Hall of Fame. "Their accomplishments and dedication to the high standard of excellence that exemplifies the very best of the Southwest Conference era, have left a great legacy for all Razorbacks to be very proud of."